Northshire Grown: Direct – Building Community Through Local Food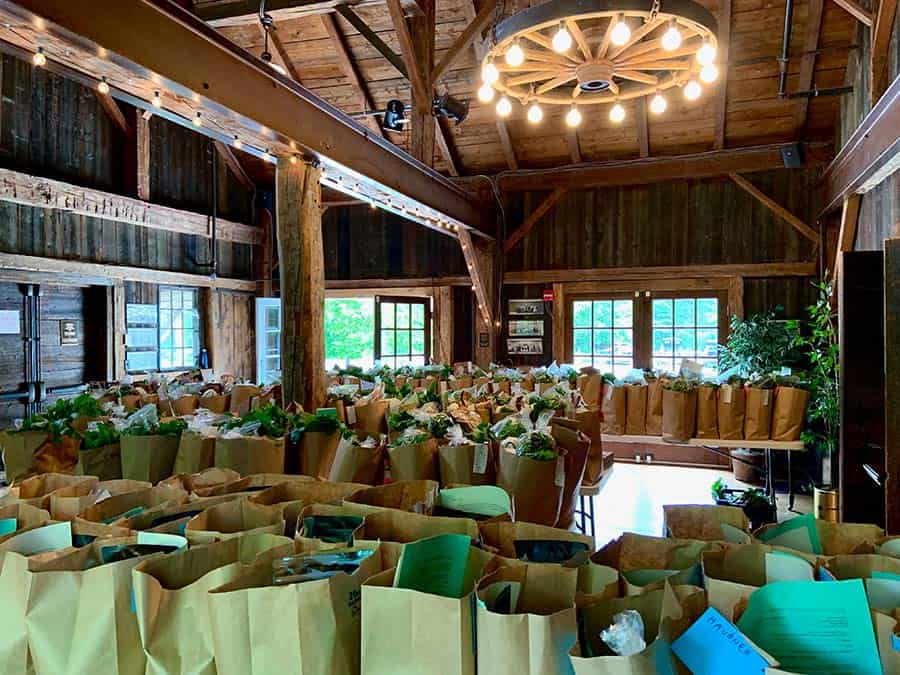 By Liz Schafer
A fresh new endeavor sprang to life in early 2020. Formed by a handful of Dorset residents, Northshire Grown: Direct (NG:D) became a lifeline for local farmers and producers – and a safe, fun way for consumers to discover and enjoy healthy, locally grown food.
One of its organizers is Liz Ruffa, a member of the Dorset Select Board and Advancement Director for Merck Forest and Farmland Center (MFFC). She says that Vermont's foodshed has always been near and dear to her heart. "I love helping a community grow," she explains. "So much work can be done to orient and connect people – especially kids – to place, and turning them on to the value and benefits that local food systems offer is a great way to do it." 
Ruffa established Northshire Grown (NG) in 2014 to represent Bennington County in Vermont's Farm to Plate Network, which found its niche by inviting growers to bring their produce, expertise and stories to local schools. As a result, many schools now have gardens and Farm to School programs and educate students in the benefits of growing vegetables and fruits. "But we could never get the 'buy local' consumer spending aspect of the work off the ground in a meaningful way," she says.
All that changed when Mara Hearst of Levy Lamb obtained a grant from the Vermont Land Trust to research what growers and food producers needed to create and maintain more sustainable markets for their goods. She approached Ruffa with the idea of partnering with MFFC. Ruffa and Rob Terry, executive director for MFFC, agreed to organize and host a series of forums in the winter of 2019/2020. Each drew over 40 attendees who shared their experiences and listened to guest speakers.
"Two big takeaways were that farmers wanted a stronger network and they wanted to work cohesively and collaboratively as a group to promote their businesses," says Ruffa. "We were just writing up the results when Covid-19 hit." Restaurants, schools, natural food stores and farmers' markets shut down – and so did food distribution channels. Suddenly, it became imperative to find ways to help local farms and producers avoid commercial disaster; they count on winter/spring markets to put into action their plans for the summer/fall growing season.
Ruffa and Hearst immediately contacted forum participants to find out what they needed. The resulting, bundled CSA was meant to be temporary, but as Hearst points out, no one knew how long the pandemic would last. They got 63 orders the first week by sending a form out to everyone they knew, and double that the second week through word of mouth. It has grown by leaps and bounds since.
"In April, May and June, no one was going to school, no one was going to work … and the only trip our customers were making was to pick up their CSA," says Hearst. "This was their happy place." She recounts how thrilled people were to find out what they'd get each week, and how it spurred many to try vegetables they'd never tried before. "The comments that never stop are 'We had no idea that this huge variety of products was available in our own backyards,'" says Ruffa.
As the market evolved, bags began to have themes built around what products were most available. Distributed every other Wednesday, they include fresh produce, cheese, bread, dairy and more, along with recipes and cooking suggestions. Add-ons like locally-raised meats and other extras are also available. 
Initially, curb-side pick-up took place at the Someday Farmstand at JK Adams, but by June, they had outgrown the space. The Dorset Playhouse, closed due to the pandemic, was its new center of activity through the winter (the summer location was moved to the Marble Project barn on Dorset West Rd.), where volunteers prepare up to 100 orders each market week. Quantities of items are delivered by producers, then organized, bagged and distributed – all on the same day. Ruffa applauds their efforts, especially those who have taken on leadership roles. 
Maria Reade, who works with Scout Proft of Someday Farm and is managing editor for Edible Vermont, has been a "vital and energetic part of the team," since the very first market in April, says Ruffa. Reade is also involved with Grateful Hearts, which gleans produce from local farmers to create healthy meals for those suffering food insecurity. Reade uses her vast food knowledge and culinary experience to create recipes for each market that combine the offerings in unique and creative ways.
Heidi Lynn, an active board member for Grateful Hearts and longtime Dorset resident, began volunteering as a packer, then took over the reins of managing the small group who gather to prepare each market. She continues to participate in organizing each market remotely as she winters in South Carolina.
Merck Farm and Forest Center assumed a key leadership role in incubating Northshire Grown: Direct, providing administrative, bookkeeping and logistics support to answer the initiative's growing needs. Executive director Rob Terry, assistant director Kathryn Lawrence, and program coordinator Cara Davenport help behind the scenes and on market days so everything runs smoothly.
The NG:D team is very grateful for all the support they have received. Volunteers and local businesses have stepped up to help out in remarkable ways. As the 2020 market season draws to a close, Ruffa reports that the 19 markets held this year pumped $150,000 into the local food economy – giving 50 participating farms a steady source of income, and providing 500 customers with 2200 boxes of locally produced food. 
"The neatest part," she says, "is the market's customer-generated philanthropy initiative, Northshire Neighbors in Need. We work with the Dorset Church, Mettawee Community School and the Rupert Food Pantry to help put fresh, healthy food on the tables of people with reduced incomes." The initiative, funded through voluntary customer contributions, generated an incredible $20,000 to date, which allowed organizers to distribute 400 bags through Neighbors in Need.
"We were able to reshape a crummy situation," says Ruffa – and in the process, have created "whole farmers, safe and satisfied customers [and] nourished neighbors." She sees a bright future for NG:D, which will continue to amplify the work of regional farmers and producers beyond Covid-19. "This has been a discovery project for so many people," she says. As the narrative of the local food shed burgeons, she envisions sharing these stories through consumer education and farm tours, as well as encouraging the public to eat well, protect their health and support their community. 
Learn more at www.northshiregrown.com.