Arthur Jones' Works of Heart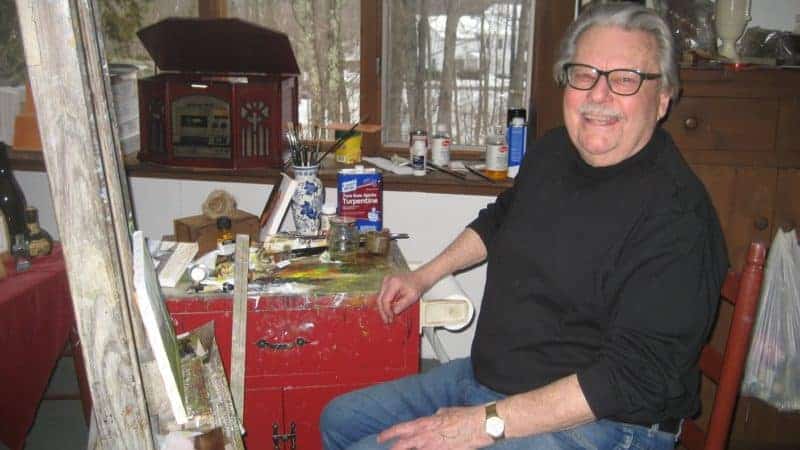 By Liz Schafer
Arthur Jones' humble beginnings as the son of a tenant farmer led him to more opportunities than he might have imagined as a young lad who loved to draw. He wasn't the least bit interested in following in his father's footsteps, and found school to be tedious. Nonetheless, the elder Jones encouraged Arthur's artistic bent, even when he quit school during his junior year at Burr and Burton in 1945. Arthur found work mowing lawns and doing various garden chores for 35 cents an hour and spent all his free time drawing, inspired by the beautiful scenery that surrounded him every day. 
His clientele grew to include Ada Davis, daughter of John Lillie of the famed Dorset Painters, a group of five local artists that began to paint and show their work together in the early 1920s. She gave Arthur painting lessons, and soon he could be seen looking for spots to paint on his bicycle, his gear strapped across the handle bars. Perhaps this mode of transportation was part of the reason that his early paintings were a fairly small 4 x 5 inches. One of these happened to enchant a visitor to Ada's studio, who offered to buy it for $5. Arthur, who considered his efforts to be merely a hobby, was thrilled with his first sale. That was in 1948. Sixty years later, one of his paintings went for $35,000 during a benefit exhibition at the Southern Vermont Arts Center.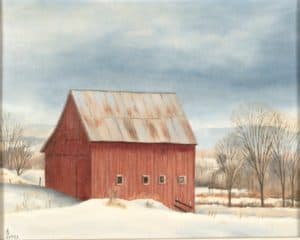 It would be hard to tell Arthur's story without including that of the Arts Center's; he was its youngest member, and enjoyed a 70-year affiliation with the organization, going on to serve as a juror, a committee member, an instructor, and for one year, its interim director.
It was through Ada that 20-year-old Arthur became involved with the Southern Vermont Artists, the colony that developed when the Dorset Painters began to include other regional artists in their annual exhibitions. He recalled that he was 'just a go-fer' in those early days, helping to hang the shows while observing and listening to such notable artists as Jay Connaway, Wallace Fahnestock and Herbert Myers, and receiving feedback on his own work from Jim Ashley, Dean Fausett and Ogden Pleissner. Interest in the group had grown steadily over the years; their 20th annual show in 1949 turned out to be their biggest yet, and they were able to acquire a permanent home the following year with the purchase of Yester House from the estate of Gertrude Devine Webster.
"There was much more to Arthur than many people knew from his persona as a flamboyant, Avant Garde Truman-Capote type," says Bill Aupperlee, Arthur's neighbor and friend for 40 years. "He was the first person to step in when someone needed help."
Arthur supported his mother and two siblings after his father's death, and later cared for the family's elderly landlady, May Goodman. Aside from two years on the West Coast during the Korean War, he spent his entire life grounded in Dorset, and living on the same property where he grew up.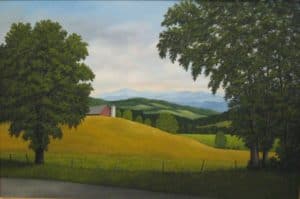 In 1968, as his success as an artist blossomed, Arthur transitioned to painting full time, listening to show tunes and classical music while he worked. In 1980, he renovated the barn on his property to become his studio, and later, his home.
"For many years, he took the week between Christmas and New Year's to travel to NYC and soak up the arts at Broadway shows and Carnegie Hall performances," recalls Aupperlee. "He'd always bring back recordings of the shows and listen to them while he painted all winter. He loved entertaining, loved his martinis, loved to laugh, and had a wicked sense of humor."
That humor was contagious, if somewhat controversial at times. One year while volunteering to present artist submissions to the jurors for the Art Center's annual exhibition, Arthur threw together an ersatz 'sculpture' from items he found lying around the building. One can imagine the hilarity and consternation that must have ensued when the jury decided to accept the piece for the show. 
Dorset lost Arthur Jones in April 2020, when he died peacefully in his home at the age of 91. Aupperlee, who acted as Arthur's caregiver when his health began to fail, wistfully recalls his friend, saying, "I came to realize in those final days how much Arthur loved Vermont, his home, and his gardens. He will be greatly missed. Wherever he is now, he's making life better."
As are Arthur's beautiful paintings, paeans of love for home and place, in homes and collections throughout Dorset and beyond.