Outward & Onward
Dorset's natural beauty is best enjoyed by getting outside. Dorset offers well-maintained hiking trails, mountain biking trails that wind through woods and backcountry settings, a historic and challenging private golf course, a pristine quarry for swimming and nearby Merck Forest & Farmland Center. In the winter there is cross-country skiing and snowshoeing as well as nearby big mountain skiing – and that's just getting started. Looking for a slower pace? Pack a picnic and discover what makes Dorset so special with a relaxing drive along the scenic Stone Valley Byway. Photo by Red Sky Imaging
Hiking & Walking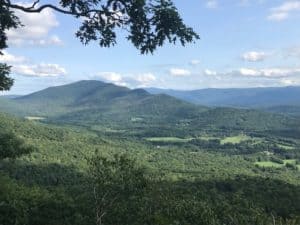 The Green Mountain State is home to more than 700 miles of hiking trails. Whether you're looking for family-friendly stroll or want to spend the day in the clouds with jaw-dropping views, it's at your fingertips here in Dorset. Owls Head Town Forest offers an expansive trail network leading to the Gettysburg Quarry, Lower Prince Quarry, and Gilbert Lookout. For those looking for a slower pace, we recommend the Pinnacle and Cutler Memorial Forest. Replicating a ruin from the English countryside, the Pinnacle includes 35-acres of forested land, making it perfect fit for those looking to spend an hour in nature. Cutler Memorial Forest features quaint walking trails and access to the Mettawee River. The Mad Tom Notch Trail in East Dorset is an official US Forest Service spur trail from the Appalachian & Long Trails. The trail travels up from East Dorset Village to Forest Road 21 in Peru.  For detailed info on Dorset hiking click here.  Dorset hiking maps.
Biking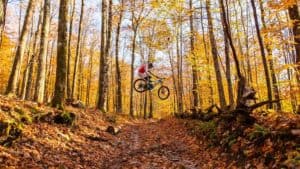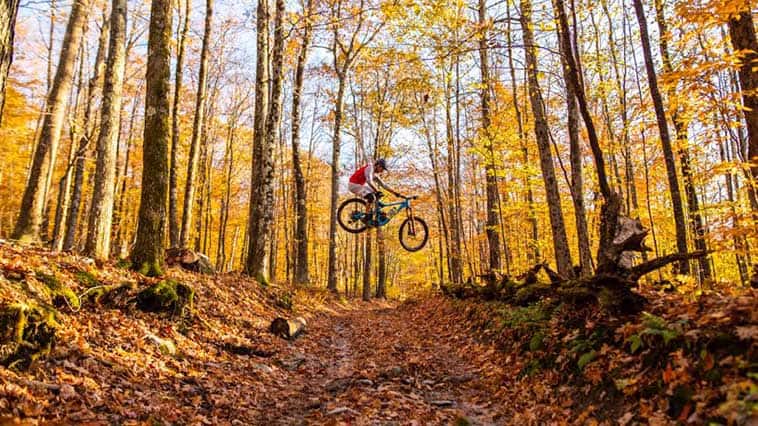 With all its mountains and valleys, Dorset provides perfect mountain biking terrain. Northshire Area Trail Systems, a local chapter of the Vermont Mountain Bike Association, works to develop new trails and maintain existing ones. Dorset is home to Humphrey's Trail, a single-track loop located at the end of Church Street that winds through the hills nearly 2.5 miles, and Bunker Loop, an extension of Humphrey's Trail that adds another mile and a steep climb. Northshire Area Trail Systems recently constructed a 3.9-mile trail on Netop Mountain in Dorset Hollow, just off Grouse Lane. The Dorset Hollow Trail is a multi-use, single track trail built in cooperation with the US Forest Service. It is entirely in the Green Mountain National Forest. The out-and-back trail climbs about 4 miles (1300 ft. of climbing) to near the summit of Netop Mountain. There are also over 8 miles of beginner to intermediate mountain bike trails that have been developed in the Owls Head Town Forest.
Conserved Recreational Land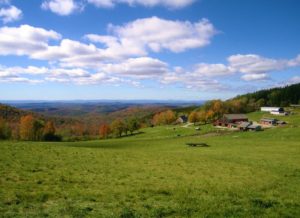 Merck Forest and Farmland Center is a non-profit educational organization that teaches and demonstrates the benefits of sustainable agriculture and forest management on its 3,200 acre property. Merck Forest and Farmland Center offers a variety of recreational opportunities, including rustic backcountry camping, and over 30 miles of forest trails for hiking, horseback riding, snowshoeing, and cross-country skiing. MFFC regularly hosts events to engage adults, children and families alike to get outside and enjoy the activities on a natural and working landscape.
Summer at the Ski Resorts
Explore the great outdoors at Stratton. Soar to the summit that inspired the Long and Appalachian trails. Play New England's only authentic red clay courts or a round of golf on the 27-hole gem that played host to six LPGA tournaments. Hike. Bike. Paddle. Dance to the live music. When you are thinking of weddings in Vermont or family reunions, think Stratton. Your Vermont summer vacation awaits!
Stratton is located about an hour away from Dorset and in winter offers some of the best skiing and riding in Vermont, with 97 trails, 600+ acres of terrain, and a bustling slope-side village. Stratton provides a full slate of activities for the whole family, including snowshoe hikes, ice skating, and Fat Bike rentals in the winter months and yoga, mountain biking, kayaking, and more in the summer.
Bromley is located just 20 minutes from Dorset. In the summer it is home to 4 Adventures, creating the premier destination for summer activities. At the Base Area you'll find our Mountain Adventure Park filled with a variety of rides and activities for everyone – kids and adults alike! Take a ride down the nostalgic triple tracked Alpine Slide, swing 4 stories high on our Giant Swing, make a Big Splash down our Waterslide, take in the views of the Green Mountains on our Scenic chairlift, and so much more! Plus, our marvelous Kidzone attractions for children under 48″.
Winter Activities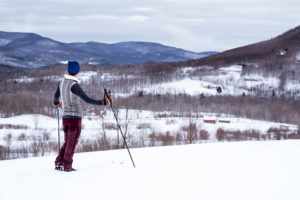 The fun at Dorset Field Club doesn't stop when the golf course closes for the season. Starting in the late fall, a spirited group of club members focus on winter sports. Dorset Field Club offers its members paddle tennis on its four heated and well-lit paddle courts, as well as snowshoeing and cross-country skiing on the Club's 2.5 miles of groomed trails. Members looking to get out of the cold can also enjoy the fitness center and golf simulators, which are available year-round.
Hildene: The Lincoln Family Home was the summer residence of Robert, son of Abraham and Mary Todd Lincoln, and his wife, Mary. Hildene is open year-round, and the Welcome Center, Pullman Car, and House are a perfect way to spend a snowy day. Become a Hildene member and ski free all season! During the winter months, they open their trails to cross-country skiers and snowshoers, offering rentals for those who don't have their own equipment. With 12 miles of trails on the estate, there's terrain with varying levels of difficulty. Visitors should note that most of the trails are natural and ungroomed.
Magic Mountain calls to skiers and riders who want to challenge themselves, with one-of-a-kind terrain. The trails are narrow and twisting, descending 1,500 vertical feet to two summit lifts. The resort's original 1960s-style trails provide an interesting and fun experience for all ability levels with true vertical skiing. You don't have to ski or ride to enjoy the slopes of Magic Mountain. It's also home to one of the best tube parks on the east coast.Check out their website to confirm Covid 19 restrictions that are in place Winter 20/21
Viking Nordic Center in nearby Londonderry provides the perfect winter getaway for everyone in the family. Their groomed trails are loved by expert snow enthusiasts and first-time visitors alike, with options for all levels of skiers. Viking Nordic Center also has a full service ski shop, offering rentals and lessons by trained instructors, a cafe, warming hut and sun deck, and more. For those that don't ski, the Center offers snowshoe rentals and an expanded snowshoe-only trail (but snowshoers are allowed on any trail).
Wild Wings Ski Touring Center is a family-friendly Nordic ski touring center located in Peru, a town just 30 minutes from Dorset. Nestled in the Green Mountain National Forest, Wild Wings' trail system includes loop trails for all skill levels. In addition to classic cross-country skiing, Wild Wings also offers a 3k trail for classic and skate skiing. The Center includes a fully-stocked rental shop with equipment for all ages.
Swimming & Summer Activities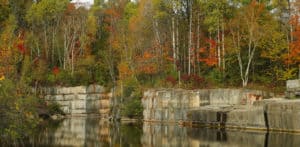 East Dorset is home to Emerald Lake State Park. Conveniently located between Manchester and Rutland, Emerald Lake State Park is well-loved for its wooded hillside campground, beach and swimming area, and nearby attractions. Emerald Lake encompasses 20-acres and – restricted to non-motorized watercraft – is ideal for swimming, kayaking, canoeing, and fishing. Another great place to cool off in the sizzling summer sun is the Dorset Quarry, a massive 60-foot-deep fresh-water swimming hole.