Mountain Biking in Dorset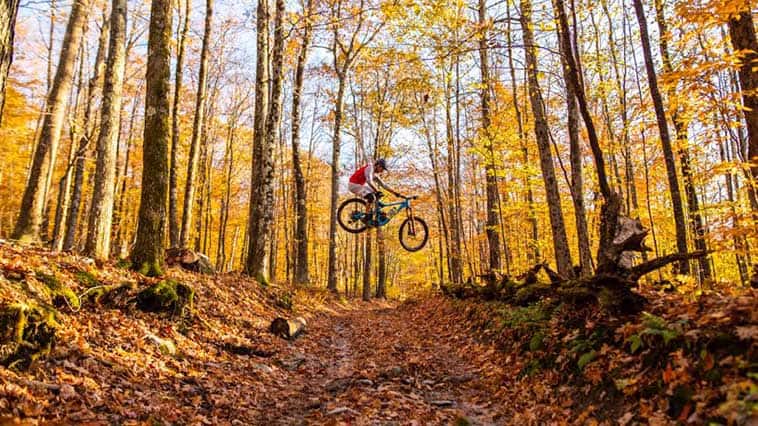 Dorset is a bike lovers paradise. With all its mountains and valleys, Dorset is the perfect spot to grab your bike and head into the woods. Vermont, and the Northshire in particular, has some of the best mountain biking on the east coast. But for years, fans of mountain biking went underserved in southern Vermont. 
But the times are changing. 
Manchester and the Mountains Mountain Bike Club
In 2011, a group of local mountain bike enthusiasts formed a bike club known as the Manchester and the Mountains Bike Club (MMBC). They went on to form a chapter of the Vermont Mountain Bike Association, known as Northshire Area Trail Systems. The group focuses their efforts on developing new trails, as well as maintaining existing trails in the region. They also coordinate group rides and networking opportunities with other local groups such as the Bennington Area Trail Systems and the Slate Valley Trails. 
Humphrey's Trail
We suggest you grab your bike and head to Humphrey's Trail. The trail begins at the west end of Church Street, just past the Dorset Green, and continues along the wooded area on Dorset West Road. The Dorset Trails include two trails: Humphrey's, which serves as the entry trail, winds up the hill nearly 2.5 miles, and Bunker Loop, a lollipop loop that adds roughly another mile (plus some sweet vertical) before reconnecting with Humphrey's Trail. Humphrey and Bunker Trail Maps
The trail is steady, tight, and includes a steep climb – making it good choice for intermediate and advanced riders. For those who don't want to continue onto Bunker's Loop, you can turn around and head back the way you came; the descent is much faster than the climb. 
This single-track loop was built by Northshire Area Trail Systems from 2012 through 2015. 
Joe and fellow biking enthusiast Kevin Harrington spent approximately 40 hours planning the course, complete with plank boardwalks, tree roots, and an unrivaled view of Dorset on your way up the trail. Students from Burr and Burton Academy in Manchester and Long Trail School in Dorset helped with the construction of Humphrey's trail. 
Post-ride, visit Dorset Bakery, Dorset Union Store, or the Barrows House for delicious food and drinks with friends. 
Dorset Hollow Trail
Northshire Area Trails Systems latest project is a 3.9-mile trail on Netop Mountain in the Dorset Hollow, just off Grouse Lane. This project marks the group's first on U.S. Forest Service Land, with construction beginning on the multi-year project back in July 2016. It is entirely on the Green Mountain National Forest. The out-and-back trail climbs about 4 miles (1300 ft. of climbing) to near the summit of Netop Mountain.  Dorset Hollow Trail Map