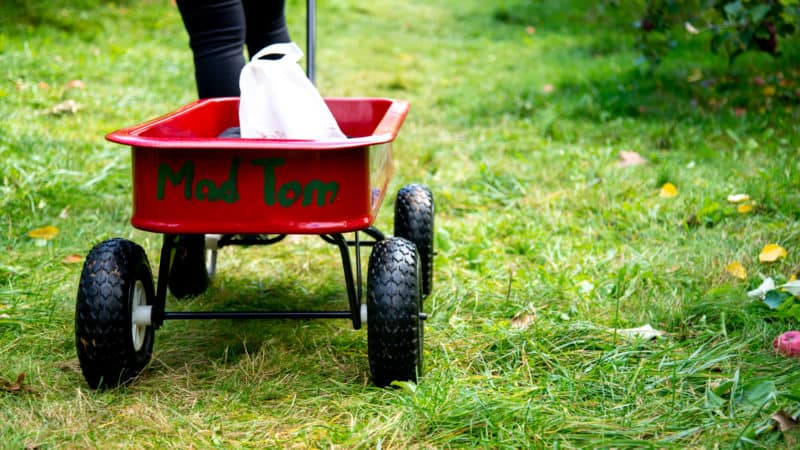 Rows and rows of apple trees line the hillside along Mad Tom Road in East Dorset. The aptly named Mad Tom Orchard is the perfect place to celebrate the changing of the seasons, when Vermont's warm summer days turn cool and crisp. Beginning in early September, hundreds of trees bear McIntosh (the classic Vermont apple), Cortland (the best for baking), Ginger Gold, Fuji, Gala, Honeycrisp, and other varieties (fourteen total) just waiting to be picked. Once you pick apples here, you will look forward to it every year.
A Labor of Love
Owners Tom and Sylvia Smith began restoring Mad Tom Orchard back in 1999. The orchard was originally planted in 1940 by the Parson's family. Tom's father purchased the orchard in the early 1960s. He ran it for years as a commercial operation before transitioning it to a pick-your-own, as it is today. With the loss of airplane spray service, the orchard closed in 1997. 
When Tom and Sylvia took the reins, they pruned more than 100 of the orchard's old, overgrown trees. They also planted more than 1,200 new trees. Their hard work was fruitful –both literally and figuratively – and the pair were able to bring over eight acres back into production.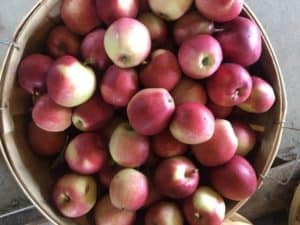 Today, Mad Tom Orchard remains committed to sustainable growing practices to ensure the property remains vibrant and in use for generations to come. In the 1950s, Tom's father used a broad-spectrum spray. It worked well to keep the tree fruit insects that caused damage to the orchard at bay, but it also meant that beneficial insects were also impacted. Today, no herbicides are used in the orchard and Tom and Sylvia do all they can to grow our crop in the most environmentally friendly ways possible. 
A Visit to the Orchard
You couldn't ask for a more perfect place to enjoy autumn in Vermont than Mad Tom Orchard. Dorset's mountains provide awe-inspiring views and the property itself is the epitome of charming. Little red wagons carry both apples and small children, the trees are marked by hand-painted wood signs of different colors and sizes, and a quaint red barn houses pre-picked apples, cider, and fresh apple cider donuts on weekends.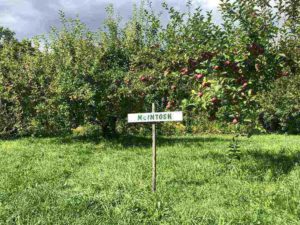 For almost 20 years, Mrs. Murphy's Donuts in nearby Manchester supplied the orchard's donuts. When Mrs. Murphy's was no longer able to supply them,  Tom and Sylvia decided to bring the donut-making in house. We've had one and can promise they're just as delicious as ever. 
Mad Tom Orchard is best experienced with family and friends, wandering between trees decked with brilliantly colored apples or sticking your face through the beautifully hand-painted face-hole cutout at the entrance. If your family includes a member with four legs, bring them too. Mad Tom Orchard is dog friendly (on leash). 
So, go ahead. Pack a picnic. Grab your camera. Don't forget your environmentally friendly grocery bag (but they have recyclable bags as well)