The Big House — Love's Legacy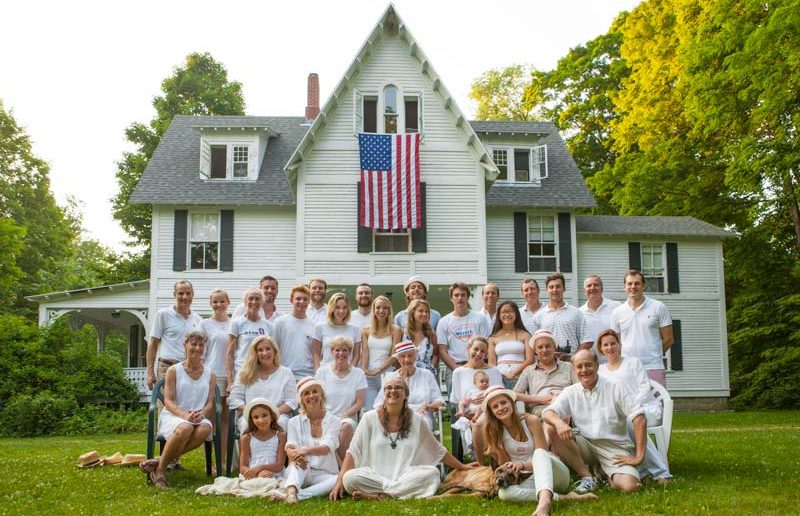 by Liz Schafer
Elizabeth Payson was an accomplished and industrious young woman who began a writing career at the age of 16. George Lewis Prentiss was the son of a prosperous shipmaster who became known as a forceful messenger of God's Word. The two married in 1845, moving from their native Maine to Manhattan, New York, where George's skill as a powerful preacher and philosopher led them to become active members of a thriving society of wealthy merchants, religious believers and scholars. It was there that he wrote many of his 14 books.
Elizabeth made her own niche in their new community as a pastor's wife, and, like her husband, she wrote prolifically, eventually producing 25 books of children's fiction and musings on faith, including the popular Stepping Heavenward. She also wrote the hymn, More Love to Thee, O Christ, now one of the world's favorites, having been translated into several languages.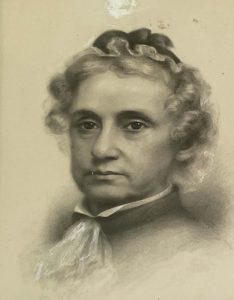 George and Elizabeth and their family enjoyed a happy and comfortable existence, enhanced by the advantages of living in an urban environment that exposed them to culture and new ideas, and that enabled them to escape to the country during the summer months. They fell in love with Dorset while visiting in 1867, and built their summer home there a year later. 
Now considered one of Dorset Village's prettiest houses, it was a something of an architectural anomaly when it was built in 1868. Its design exemplified the latest in building technology, and its eclectic detailing and lofty stature were indeed avant-garde for rural Vermont. Even today, it clearly stands apart from its colonial neighbors.
Elizabeth wrote in her journals and letters of their enchantment with their second home and the "sweet seclusion" it afforded the family away from the bustle of the city, and of her daily life in the Dorset community, before passing in 1878 at age 59. In paean to his departed wife, George went on to compile More Love to Thee: The Life and Letters of Elizabeth Prentiss. a few years before his own death in 1903. They both lie buried at Maple Hill Cemetery, but their spirits continued to live on in their beloved home—and in Dorset—through their descendants. 
Their first son, George Lewis Prentiss II, was one of the original members and a founder in 1886 of the Dorset Field Club, which is recognized as the "Oldest Continually Operated Golf Course in the United States."
The second son, Henry, who founded the Prentiss Improvement Clock Company in NYC, ran the property as a boarding house during the early 20th century for friends and acquaintances who would come up from New York and New Jersey in the summer for weeks at a time. The modest fees they charged helped with the upkeep.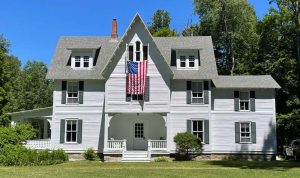 A century and a half later, The Big House, as it's fondly called, is still a family retreat, reminiscent of an earlier time despite modernizations made over the years. The mountain views from the house's large wrap-around porch are now obscured by forest; the stables which housed the family conveyances is now a neighboring home; and Prentiss Pond, once a part of the family's holdings, is a public fishing spot. 
But there is a real sense of the family's continuity in the home's sprawling Victorian rooms, where far-flung relatives flock from hither and yon to gather for family fun every July 4th weekend, and many holidays, too. 
"Even if it's raining, there's plenty of room for everyone," says Dorset resident David Lynch, the great, great grandson of George and Elizabeth Prentiss, and one of several cousins who share ownership of the property.
A huge pine planted by David's great aunt still stands in the front yard. Family photos of all vintages adorn walls and fireplace mantles; scores of chairs fill the main rooms, so everyone has a seat; each bedroom is named, and has a story to tell. (There's the former sleeping porch where David's uncle, novelist Edward Payson Whittemore, preferred to do his writing; the beautiful, sunlit room that was once Elizabeth's; the large attic with its round, shuttered windows, where the older kids got to bunk up together—and still do, whenever the Prentiss descendants gather.) 
"Yard games during the July gatherings have always been core to the family," says David. He recalls big, multi-generational soccer matches, barbecues and games of Jarts (big, steel-tipped lawn darts that became outlawed as too dangerous.) "We would try and throw them the length of the lawn until the parents complained someone was going to be killed during cocktails. That gave way to horseshoes, and in recent years, cornhole. Games change as the times do!" 
One thing that hasn't changed is the game of Squares, which the family has played for generations at the massive dining room table. Comprised of a dozen or so players of all ages, the hotly competitive games often go well into the night.
Then there's the elaborate fireworks show put on by one of the cousins every July 4th. It used to be staged in the back yard, but in recent years has moved to the lawn in front. "It's always spectacular as the explosions light up the house," says Lynch. "Hopefully our village neighbors don't mind too much!"
Do the ghosts of George and Elizabeth mind? "Well, if there are ghosts here," posits Lynch, "I figure they're friendly ones. After all, we're related."