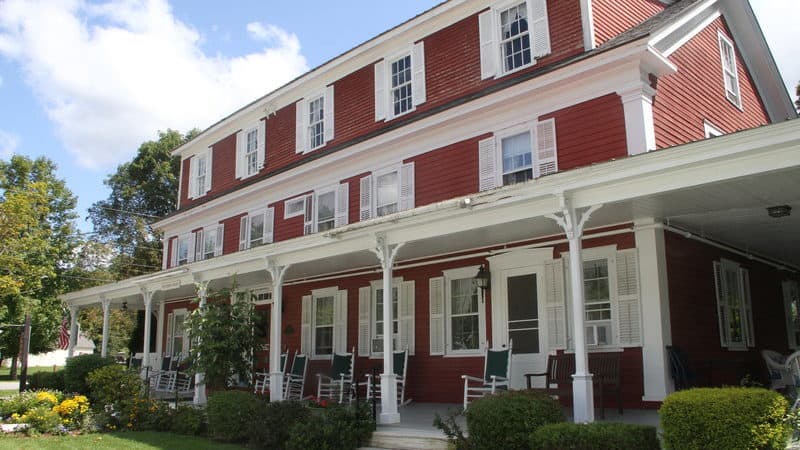 On the corner of Village Street and Mad Tom Road in East Dorset sits one of the largest buildings in the village, a red and white inn with a deep porch that is home to several rocking chairs just waiting to be sat in. Many who pass the modest sign near the front entrance of The Wilson House may pause for a minute to think "Wilson who?" but for thousands of others, the inn is a Mecca, of sorts – a symbol of peace, hope, and recovery. 
The historic hotel is the birthplace of William Griffith Wilson, the man who co-founded Alcoholics Anonymous and developed its accompanying 12-step program alongside fellow Vermonter Dr. Robert Smith. A Wall Street analyst who invested more into humans than he did finances, Wilson himself struggled with alcoholism, which nearly destroyed both his marriage and career. 
The Wilson House has a deep, rich history that dates back to the 19th century. Built in 1852 for local entrepreneur Ira Cochran, the Greek Revival building was the first motel in the village of East Dorset. Construction began the same year the railroad came to town. 
A gentleman named Blake Barrows later married Cochran's daughter, Betsey, and the hotel's ownership changed. This eventually led to the introduction of the Wilson name. 
William C. Wilson married the Barrows' daughter, Helen, and acquired "one equal and undivided half" of the property, which was renamed Wilson House. Bill Wilson was born to their son, Gilman Barrows, and his wife, Emily Griffith Wilson, who were living at Wilson House at the time. Ironically, Bill was born during a late November snowstorm in the room that would later become the bar of the hotel (post-prohibition).
His parents divorced when Wilson was a toddler and he and his sister moved to Rutland.  He returned to East Dorset later in his childhood to live with his grandparents and attend Burr and Burton Academy in Manchester. He met his wife, Lois, at nearby Emerald Lake. She is the founder of both Al-Anon and Alateen, support groups for family members of those in recovery. 
Bill Wilson's father purchased the property in 1899 but held ownership for just one year. The property changed ownership several more times, until it became the Mt. Aeolus Inn in 1920, a name that stuck for more than 50 years. 
The building would eventually sit vacant and dilapidated until Albert "Ozzie" Lepper purchased the property in the late 1980s and made it into a living memorial to Bill Wilson, renovating The Wilson House with the help of volunteers' time and talent. The hotel reopened in 1998 under the historic name. The Wilson House was later established as a nonprofit organization to ensure that Wilson's memory, spirit, and purpose in life continues on for decades to come. 
Today, some 10,000 visitors come to The Wilson House from all corners of the world. Many of them are in recovery themselves, while others are history buffs who simply want to visit the homestead, which was added to the National Register of Historic Places in 1995. 
Everyone is welcome. 
The Wilson House has 12 guest rooms and one suite. It also offers meeting spaces for intimate and larger crowds, hosting AA and Al-Anon meetings six days a week and recovery seminars and retreats throughout the year. The Wilson House opens its doors to community members every Friday night, hosting an appetizing array of comfort food. 
The look and feel of The Wilson House hasn't changed much over the years. While the outside looks like something you'd expect to see lining the streets of Kennebunkport or Martha's Vineyard, the inside remains quaint, cozy, and inviting, with lace curtains and floors that give away their age with a slight creak. When you walk through the doors, you immediately feel accepted and the inn's peaceful, quiet spirit is conducive to whatever soothes your soul – reading, prayer, meditation. For this reason, guest rooms are void of all electronic devices, even telephones. Breakfast is served to guests daily.
It's a simple kind of joy. 
Visitors should also journey to the nearby Griffith Library, just on the other side of the church, where Wilson lived during his teen years. Serving as a museum and library with a collection of more than 1,000 resources, some authored by Wilson himself.  While it's not a lending library, it is a hands-on experience for those interested in learning more about the 12-step lifestyle. 
Wilson, who died from emphysema and complications from pneumonia in 1971, is laid to rest about a mile up the road – his headstone flanked by a coffee can full of AA recovery medallions – and visitors stop to celebrate their success and say thank you to the man who inspired an international fellowship of recovery.