A Trip Down Memory Lane at H.N. Williams Store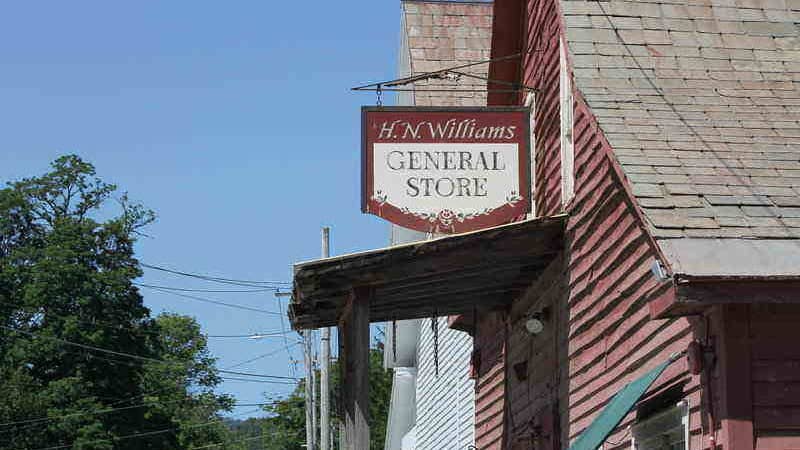 Traveling along the Route 30 corridor through Dorset, you pass a quaint red barn, with an attached white building. Above the door hangs a sign that reads general store. To an outsider, H.N. Williams Store might look like just another old Vermont country store, but anyone who has visited knows the treasures that are found inside. 
At H.N. Williams Store, you'll find everything from clothing and footwear to children's toys, hardware, and Vermont-made goods. The store also includes a deli serving made-to-order sandwiches, soups, salads, and entrees, including vegan, vegetarian, and gluten free options. At its core, H.N. Williams Store provides a one-of-a-kind Vermont experience. 
A Historical Perspective
H.N. Williams Store has been family owned and operated since 1840. William Williams originally founded a harness shop and tannery. His son, Charles, took over the business in 1865 and was joined by his brother, George, several years later at the newly renamed William William's Sons. Rumor has it that Charles lost a leg in an accident and would sit by the old wood stove in the store, cracking walnuts with a hammer against his wooden leg to get a reaction from visitors. George's son, Herbert N. Williams, began his tenure with the family business in 1893 and was influential in expanding the store's inventory. 
Herbert is often credited with the creation of the store similar to how its known today to meet the needs of its customers and the ever-changing economy. H.N. Williams Store stocked wagons, sleighs, and oxen yokes, as well as harnesses and bridles made on site. The store also rented bicycles, which were in high demand as a result of the gas rationing caused by the war. 
Herbert's son, known to most as Bill, worked in his father's store from 1935 to 1937, when he officially took the reins of the business. When Bill passed away in 1947, his sister, Ada, and her husband, Austin Rumney, took over managing the store alongside her mother. The store's deli bears their name. By 1985, Ada and Austin's daughter, Ruth, and her husband, Dennis Brownlee, had taken the helm of the business, which continued to thrive thanks to their willingness to stock products most desired by their customers. 
The Brownlee's oldest son, Billy, grew up in the store, working there since he was just 12 years old. Ada would teach him how to make change and where he could find items on the shelves. After college, Billy returned to run H.N. Williams – a more than 170-year-old business – and continues to do so to this day alongside his wife and parents. 
H.N. Williams Store Today
When you first walk into H.N. Williams Store, it feels like you've traveled back in time. It feels comfortable, and the old creaking floors and original wallpaper just adds to the charm. The first floor is home to a variety of Vermont-made products, with nooks of children's toys, warm wool socks, and more. Up one floor is Rumney's Deli and an intimate sitting area, the perfect spot to grab a bite to eat and catch up with old friends. Chances are you'll run into at least one person you know. The basement is home to footwear, hardware, and other outdoor supplies. 
What makes H.N. Williams Store different than many other general stores is not only its size, but its offerings overall. It's one of the few places you can visit to get almost anything you want need. From wool red checkered hunting coats to Vermont Maple Syrup and thousands of items in between. 
Growing with the Times
In the summer of 2019, H.N. Williams went through a significant (and very much in keeping with who they are) expansion which includes the addition of canopied gas pumps and a 3,200-square-foot addition. It has an expanded VT Craft Beer Selection and wine section as well as a beverage bar that includes espressos, smoothies, ice cream and milkshakes.  The additional square footage has also allowed them to grow their clothing offerings from Darn Tough Socks, Kuhl, Mountain Khakis, Carhartt, handmade Amish belts and much more.
H.N. Williams Store is an important, vibrant piece of the Dorset community. In many ways, it's a community in and of itself. In addition to the first-time visitors the store welcomes annually, the Brownlees welcome locals who have been shopping there most of their lives. H.N. Williams Store is also home to the Dorset Farmers Market during the summer months, providing a space for local farmers, producers, and artists to share their work with the community.