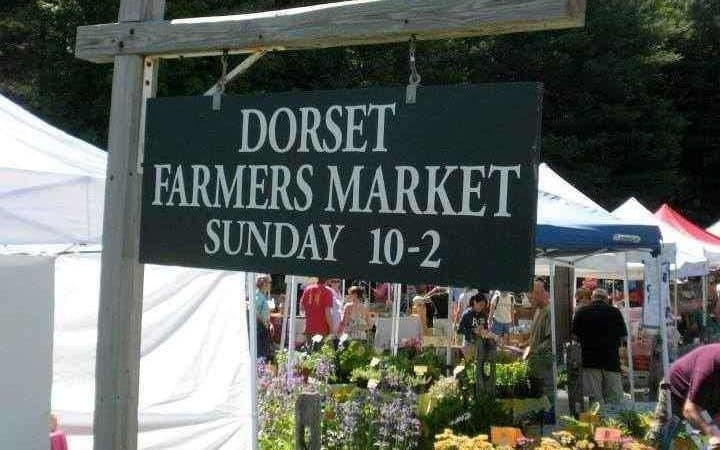 Every Sunday, bakers, artists, farmers, crafters, growers and other artisans flock to Dorset for the town's Farmers Market, offering fresh, locally-grown produce, delicious baked goods, and much more. 
Whether you are new to the area, visiting for the weekend, or just passing through, you have to visit the Dorset Farmers Market at least once (but we promise you'll want to come back again and again). 
The Dorset Farmers Market is held from 10 am-2 pm every Sunday, rain or shine, 52 weeks out of the year. Both the summer and winter markets feature live music each week by well-loved local artists and bands such as Steve Spensley and Robert Waugneux. 
Summer Market
From mid-May through late October, the Dorset Farmers Market has a home outdoors at H.N. Williams Store. Pop-up canopy tents take over the expansive lawn, with more than 50 area producers setting up shop for the day. The market truly reflects the diversity of the region and is an opportunity for local producers to not only sell their products, but to educate and build relationships with both regulars and newcomers. Because many of the vendors at the market have been coming for years, you'll often hear them greet people by name. This allows means they can identify new visitors, pulling them in to share more about their business and why they love coming to the market. 
From seasonal vegetables and fruit to chicken and grass-fed beef to fresh-baked bread and artisanal cheeses, the Dorset Farmers Market offers a unique variety of goods and products. 
Winter Market
The Dorset Farmers Market is held indoors at J.K. Adams. The winter market provides the same variety of producers in a more intimate setting. Held mid-October through mid-May, the winter market is a great opportunity to meet local farmers and producers, some of whom are enjoying a quieter way of life with the demands of the summer behind them. The winter market means you don't have to sacrifice your locally-grown salad greens all winter or your apples and cider once fall ends. 
There's no better way to get ready of the week ahead, or to take advantage of a "lazy Sunday" than a trip to the Dorset Farmers Market. What's better than time spent with family or friends exploring what the region has to offer – or sweet treats, or beautiful flowers, or a new piece of pottery …