The Eli Deming House: A Continuing Saga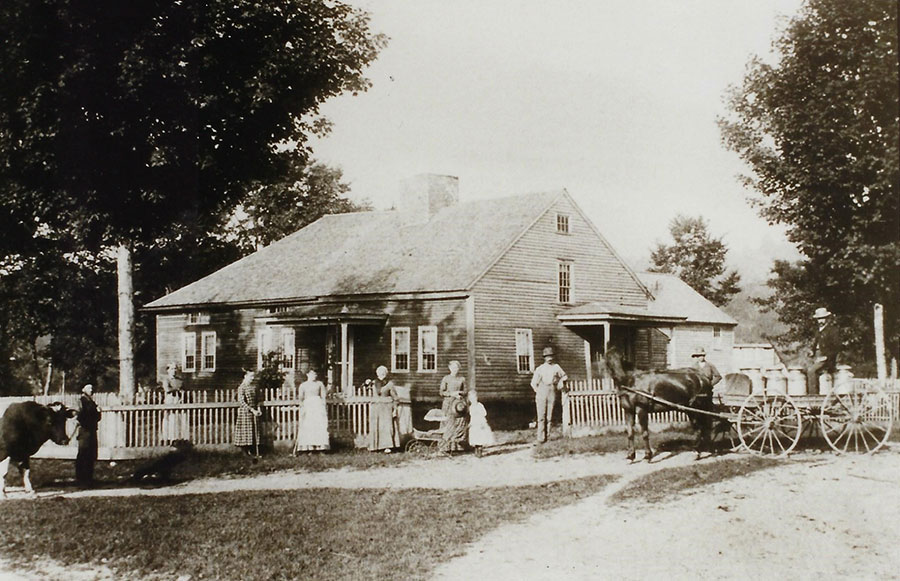 By Liz Shafer                       Period photos courtesy of Dorset Historical Society
The historic narrative of many an old house is often broken—even lost—with the passage of time. People move out, circumstances change, and a different story begins and ends with each new household. But when several generations of the same family spend their lives in the same house over many years, there is a thread between past and present that remains, long after its people are gone. In the case of one such house in East Dorset, a new family took up its tattered remains to preserve its rich history before passing it on to the next.
Eli Deming and his two brothers came as young men to the then-republic of Vermont from Wethersfield, Connecticut, during the early days of the Revolutionary War, to settle on the hundreds of frontier acres that lay between northeast Dorset and Manchester. The house that Eli built in 1786 near one of the area's few roadways was substantial for its time; its oak timber frame was a 38 by 28-foot story and a half, with a large garret above the second floor. He inscribed his initials and the date on one of the chimneys, and went on to raise his family there, adding more rooms as they were needed. Along the way, he transformed 300 acres of forest into a dairy farm, erected several barns and outbuildings, and established a trade in cheesemaking.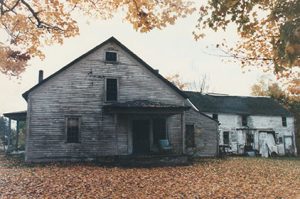 When he died in 1802, Eli's eldest son Benjamin took ownership. The corner of the property had become a busy intersection as a result of East Dorset's burgeoning industry. Benjamin enlarged the family home in 1825 and opened a tavern to welcome the many visitors who had begun to flock to East Dorset for business and pleasure. In its heyday, Deming Tavern boasted a ballroom with a vaulted ceiling, a ladies' parlor and lodging for travelers who came by way of the new railroad. He also created a pond behind the house in 1830 to power a sawmill and a forge, then established a business in providing ice to the growing community. 
The house remained the home of Deming progeny through seven successive generations—196 years—ending with Eli's second great-granddaughter, Helen Viall Benedict, who was the last to live there. As is the case for many old dairy farms, the property had slowly begun to decline; parcels of land were sold off, the cows disappeared, and barns fell in on themselves. The house itself was little more than a decrepit relic when Helen died in 1978 at age 94, in the same room she'd been born in.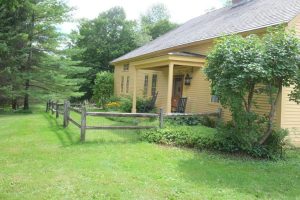 "We called it the crooked old house," recalls Peter Palmer, who confesses to a life-long interest in antiques and old things. He and his late wife Susan had witnessed its slow deterioration for years as they'd passed it on their way into town. When the opportunity to purchase it arose in 1987, they were well aware of what they were getting into; Peter did old house restoration for a living, and Susan was an antiques dealer. The couple and their sons spent over two years working on the structural integrity of the house, including rebuilding two massive chimneys, shoring up the foundation, removing tattered early 19th-century wallpaper and restoring the circa-1800 decorative paint on the walls. They kept the original structure of the rooms intact—including the 18th-century kitchen—furnished it with period antiques, and lived there for 20 years before passing it on to the next owners.
Tom Neumann and his partner, Kaela DeAngelis, moved to East Dorset from New York in 2020. They'd been sharing a house with Kaela's parents down the road when the Deming property came on the market. "We'd been admiring it from afar," says Neumann. "It's in such a beautiful setting, we knew it might be our only opportunity to buy it." 
As co-founder and CTO for a company that designs virtual reality platforms for seniors, Neumann, a native of Toronto, has called many places home—among them, Budapest, New York City and Boston. But when his workplace went remote as a result of the pandemic, he and Kaela chose Vermont for its natural beauty and laid-back vibe.
They're excited to continue restorations to the house. One of their first objectives was to make sure the structure was sound, and it is, despite the crooked walls and uneven floors. They've addressed leaks in the roof and siding and have restored the plaster walls inside the largest room, a space over what had been a barn attached to the back of the house. Next, they'll be adding mini split heat pumps to the currently unheated second floor. They'd also like to add some modernizations, like installing a dishwasher to the old-fashioned kitchen and enlarging the tiny bathroom. 
"We want to be mindful of the character of the home," says Neumann. "In a way, we feel like we're the caretakers, not the owners." The couple plans to share their home with Kaela's parents, her brother and his wife. Eli Deming would surely approve. After all, his house has seen many changes in its 237 years, and still stands. And its story continues, one family to the next.