Kyle Zecher Tree Care
Member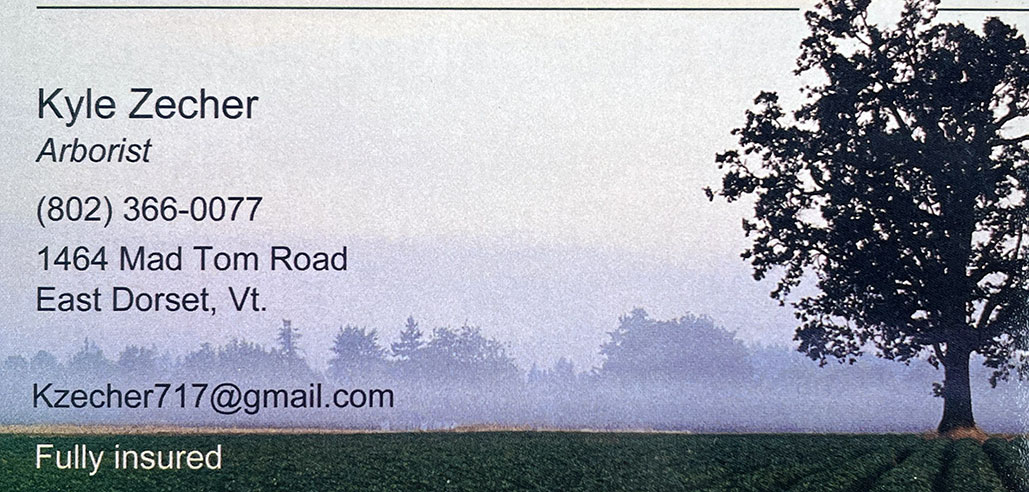 All Things Tree Care including, but not limited to, tree removal, shade tree and ornamental pruning, shrub pruning, stump grinding and cabling. View enhancement and small scale logging projects. Firewood. Fully insured. References available.
Born and raised in East Dorset, Kyle attended Dorset School and Burr and Burton Academy before heading off to Paul Smith's College of Forestry earning a degree in Arboriculture and Landscape Management. Since starting his own business over 10 years ago, he has continued to acquire equipment, has expanded his clientele, and has become more diverse in the tree care industry.
Kyle is looking to build long term personal relationships with his clients while bringing trusted quality, care and satisfaction to every job. He can be reached at 802-366-0077.
"Kyle has been helping us at the orchard since he was a young teenager, when he made cider and picked and sold apples on harvest weekends.  Since he became an arborist, he has planted dozens of young apple trees and chipped up loads of brush. He has also helped with tree removal, including one giant pine that he laid down neatly in a narrow space between the house and power lines.  Kyle makes an accurate estimate, always shows up when he says he will, and completes his work cheerfully and efficiently. It's a pleasure to work with him."  
       Tom and Sylvia Smith
       Mad Tom Orchard
"We first met Kyle over 8 years ago when we moved to VT and needed an arborist to tend to trees on our newly acquired property. Since then he has cared for our fruit trees, managed our large maple trees and removed damaged trees.  In one case he took down a large diseased ash tree very near the house.  In addition, Kyle supplies our annual firewood and when we request, plows our road. We highly recommend Kyle. He is professional, knowledgeable, dependable and a pleasure to do business with."