Dorset Players "Barefoot in the Park"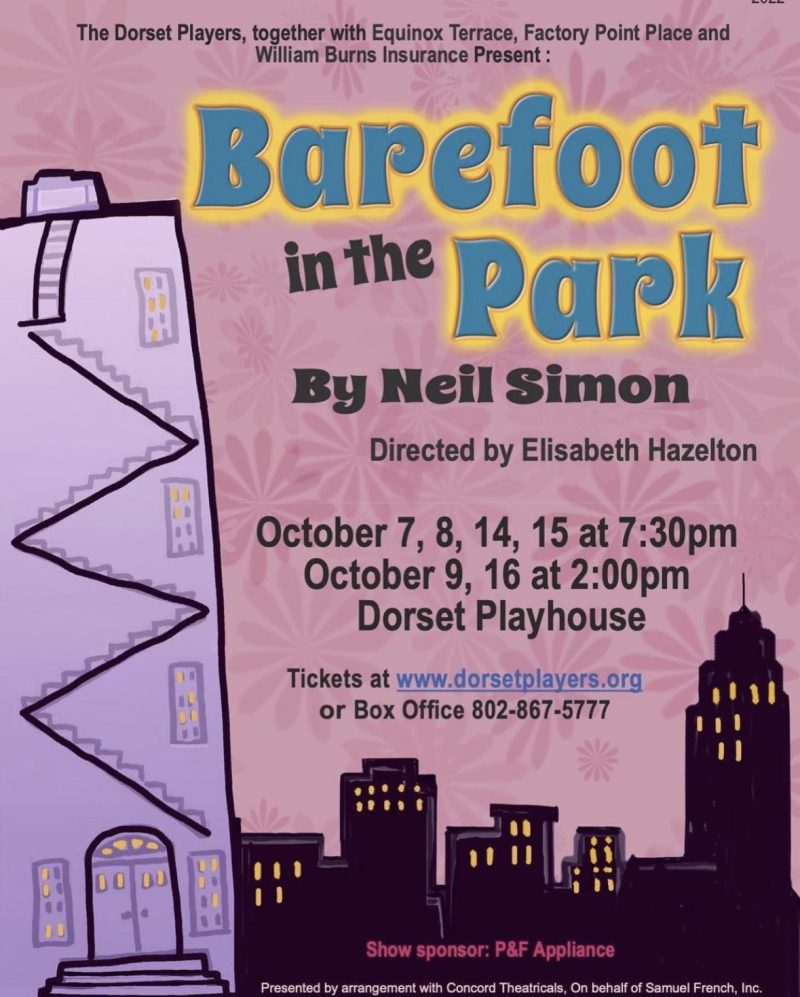 Barefoot in the Park
By Neil Simon
Dorset Players will open their 95th Season with the Neil Simon comedy Barefoot in the Park.  The story follows young New Yorkers Corie and Paul Bratter, just back from their honeymoon.  They begin their married life together in a tiny fifth floor walk-up. He is a conservative young lawyer, she is a free-spirited romantic. Throw in her meddling mother, their eccentric upstairs neighbor, and a hilarious sequence of misunderstandings that test the boundaries of their love, and you've got the perfect recipe for laughter.
Director Elisabeth Hazelton has chosen veteran actors of the Dorset Stage:
Tina Fores-Hitt as Corie Bratter
Joe Mozer as Paul Bratter
Caren McVicker as Mrs. Ethel Banks
Tom Ferguson as Mr. Victor Velasco
Tom Martins as Harry Pepper (Telephone Man)
Mike Robinson as the Delivery Man
This production will run at the Dorset Playhouse on October 7, 8 & 9 and 14,15 & 16, 2022.  For further information call 802-867-5570 or email info@dorsetplayers.org.
Presenting Sponsors are:
Equinox Terrace, Factory Point Place, Williams Burns Insurance.
Show sponsor is P & F Appliance.
Please note: Masks are required for all performances.