For the Love of Vermont: the Lyman Orton Collection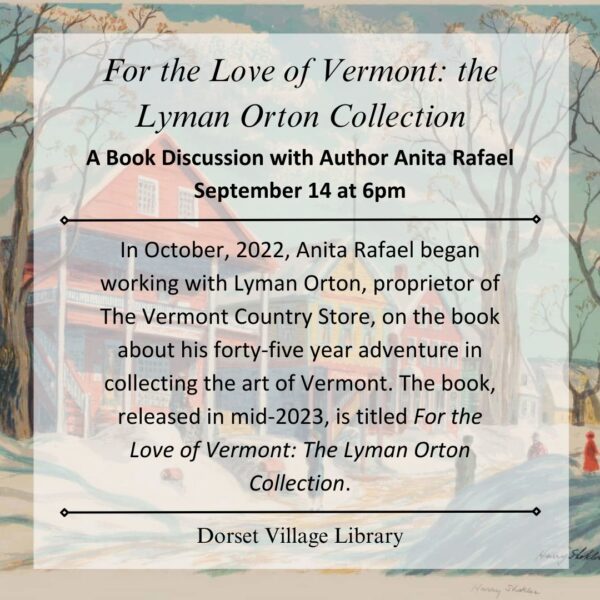 For the Love of Vermont: the Lyman Orton Collection
Dorset Village Library
This book is about the private collection of Lyman Orton, proprietor of The Vermont Country Store. The book was written to accompany the first comprehensive public exhibition in the summer and fall of 2023 of his collection of paintings, prints, and drawings of Vermont, with a focus on the artists working in Vermont between 1920 and 1960.
The talk will include reading from the book – a selection from the first few pages of Chapter One –The Artists and Origins of The Lyman Orton Collection.
There will be a Q&A section after the talk.
About Anita:
Anita Rafael is a writer living and working in a 1840s carriage barn she rehabbed in 2005 in the village of Wardsboro, Vermont. Her feature articles about people, places, arts, food, travel, and events in Vermont have appeared in lifestyle magazines and newspapers throughout the state of Vermont since 2007, as well as on websites and travel blogs. Publications in Rhode Island and Southern Massachusetts printed her feature articles throughout the 1990s.
Before relocating to Vermont from Newport, Rhode Island, Anita Rafael collaborated with the Rhode Island Historical Society, the Blackstone Valley Tourism Council, and the National Park Service to write interpretive materials and travel literature, and to create heritage-themed museum programming in the two-state region now called the Blackstone River Valley National Historical Park. She is the author of the journal La Survivance, a 1997 publication of the Rhode Island Historical Society printed as a background guide to the exhibits at the Society's Museum of Work and Culture in Woonsocket, Rhode Island. Anita coordinated historical programming, social events, and art and photography exhibitions at the museum when it first opened to the public.
In October, 2021, Anita Rafael began working with Lyman Orton, proprietor of The Vermont Country Store, on the book about his forty-five year adventure in collecting the art of Vermont. The book is titled For the Love of Vermont: The Lyman Orton Collection. It came out in May, 2023.
Anita Rafael has been a popular public speaker on local history and cultural heritage topics since the mid-1990s. She is originally from eastern Connecticut. She graduated from the University of Connecticut at Storrs. She crafts in a variety of fine fiber arts, and also draws and paints; she is the daughter and granddaughter of artists.