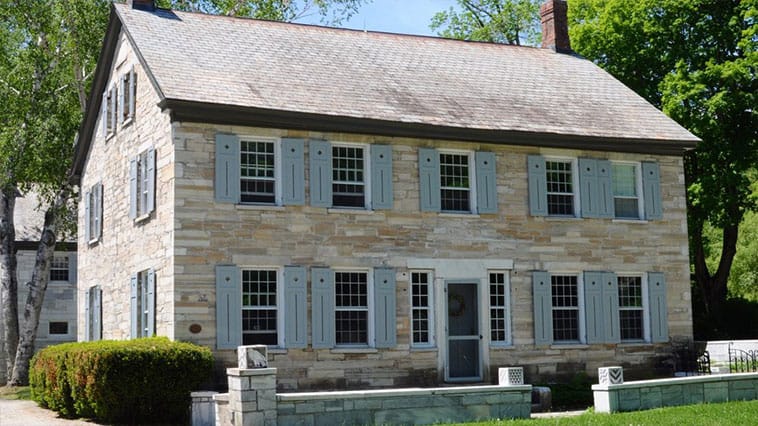 Just minutes from the Village, off the side of Dorset West Road, a magnificent marble mansion sits. You can tell it's one-of-a-kind and nearly impossible to miss. It's the kind of beauty that makes you slow your car and stare as you pass by, no matter how many times you've seen it before. 
The Marble House: Then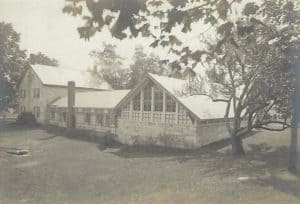 The marble mansion – known as the Manley-Lefevre House – was built around 1815 by Martin Manley, who purchased the land from his father. The house was built entirely from marble harvested on Sanford Quarry, located on the property. The later additions, which were completed in 1908 and 1925, included marble from nearby Danby. Stacks of marble sat abandoned after production after the quarry shut down in 1870. Today, nature has regained control of the quarry, which is home to waterfalls and marble sculptures.  
In 1908, the property was inherited by Edwin Lefevre, who previously worked as a financial reporter for the New York Sun newspaper. He later served as a U.S. ambassador to Spain, Italy, and France. Lefevre passed the property onto his son, Edwin Jr., who restored in 1968 and lived there throughout his retirement. 
Edwin Sr's other son, Reid, is perhaps the more well-known of the Lefevre boys. Besides being the ringmaster for the King Reid Show, a traveling carnival which toured across New England, he later became a politician, representing his district in Manchester as a legislator before becoming a state senator in the 1960s. 
A Goldmine of Creativity
Danielle Epstein and Dina Schapiro purchased the massive 48-acre property in 2012 from David and Katherine Dickenson, who acquired it from Lefevre back in 1982. 
Epstein and Schapiro spent nearly two more years completing renovations. Epstein purchased The Marble West Inn around the same time.
Their vision was to create a destination multi-disciplinary artist residency program. Today, Marble House Project – the not-for-profit organization that facilitates programming on the property – is just that. The program fosters collaboration and the exchange of ideas by providing an environment where artists from many disciplines can live and work alongside one another. The artist residency program was launched in the summer of 2014. Marble House Project hosts six three-week residency sessions each year. Artists focus on film and video, literature and creative writing, visual arts, music and composition, and dance and performance. 
A year later, they introduced ART-Seed, a series that introduces you to the artists-in-residence through concerts, performances, lectures, and more. Every weeks ART-Seed is fresh and interesting. In 2017, Marble House Project launched its culinary artist residency, its curatorial residency, and its collaborative residency two, which run concurrently with the artist in residency program. 
Other programming includes yoga in the barn, garden tours, and delicious themed farm-to-table dinners. 
The Marble House: Now
The Manley-Lefevre House and studios are exclusively for artists and are only open to visitors on special days. The house and grounds have been on the National Register of Historic Places since the Dickenson's had it listed back in 1990. The 8,000 square foot mansion houses artists during their stay; it includes eight bedrooms, eight baths, two living rooms, and a dining room large enough to host 22 people. It also has an office and library and a dance studio, referred to as the old swimming pool, with high windows and breathtaking marble walls. 
The property includes nine independent studio spaces, which are assigned upon the artists' arrival based on need. In addition to a music studio, there's also the culinary arts studio, where residents fix delectable creations with ingredients picked fresh from the organic farm. Artists-in-residence are encouraged to plant and harvest seasonal vegetables and herbs like lettuce, tomatoes, cukes, pumpkins, watermelon, and an assortment of berries. The farm is home to chickens that lay fresh eggs daily. 
Elsewhere on the property, the Marble Getaway Cabin is located in the old Sanford Quarry. It was built in 2014 by the Building Wild team at National Geographic. It serves as a source of solitude for artists, where they can swim or just get away for a while. 
Perhaps one of the most breathtaking features of the property is the gardens. The elder Lefevre commissioned renowned landscape architect Charles Downing Lay to design the gardens, which features more than 36 hand-carved planters, marble benches, fountains, a marble tea house, and stone pergola. 
See it for Yourself
Interested in experiencing Marble House Project firsthand? Learn more about community events. Marble House Project also serves as a unique background for workshops, retreats, and Vermont weddings throughout the year. 
Next time you're driving down the Route 30 corridor take a detour to Dorset West Road. We promise, you won't regret it.  
Historical photo courtesy of Dorset Historical Society