Our Theatre – The Kitchen Table of Community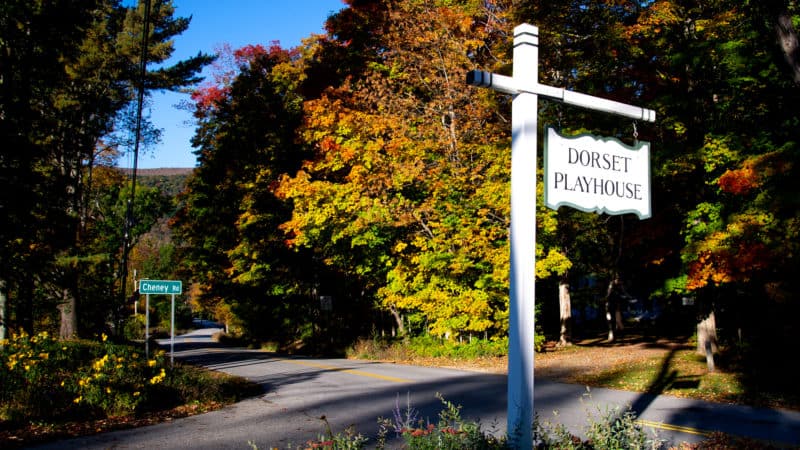 Southern Vermont is rich in the arts. From intimate concert venues to cozy art galleries, we're certainly not lacking. Dorset, in particular, offers a variety of robust arts and entertainment opportunities, including its theater flagship, Dorset Playhouse – home of the Dorset Players and the Dorset Theatre Festival. 
Dorset Playhouse is the perfect spot to experience live theatre. Built in 1929 from three old renovated Vermont barns on Cheney Road, it's quaint and charming – exactly what we imagine community theatre is meant to feel like. 
The Playhouse is intimate, vibrant, and unpretentious. Comfortable red chairs fill the rustic barn, with its natural wood beams and ceiling. There's honestly not a bad seat in the place. 
The Dorset Players
During the spring of 1927, Dr. and Mrs. Edward Goodman, long-time fans of the performing arts, brought Dorset residents together to produce a three-act play titled 39 East. It was presented at the Dorset Town Hall, and was met with great enthusiasm. This success eventually led to the formation of an organization known as The Dorset Players. 
Recognizing the physical limitations of the Town Hall, the Players built Dorset Playhouse, which opened in July of 1929. The Dorset Players thrived until the late 1930s, when the war halted productions until 1946. A few years later, The Dorset Players began a long partnership with the Caravan Theatre and Fred and Pat Carmichael, who produced many original plays.
The Dorset Players have put on hundreds of productions since 1927 and are celebrating their 91st season this year. The Players season runs from October through May, and includes a holiday show for children, The Missoula Children's Theatre production – a week-long residency of 50 local children in a full-scale musical – and the One Act Festival in April, which gives members the opportunity to direct a play without taking on a full production. Today, The Dorset Players have expanded their reach and now welcome residents from across the Northshire with a passion for theatre. 
View the Dorset Players 2019-20 Season productions. 
Dorset Theatre Festival
In 1976, John Nassivera and Jill Charles, under the name Harlequin, Ltd., rented Dorset Playhouse for the summer to present a professional season of theatre. Professional summer theatre continues at the Playhouse today under the name Dorset Theatre Festival. 
Dorset Theatre Festival offers world-class roster of summer productions, with a mission to create bold, innovative, and authentic theatre that engages a diverse, multi-generational community, and economically diverse region. Dorset Theatre Festival is committed to producing theatre that matters, presenting thought-provoking productions and highlighting new artists that are the future of American theatre.
That is theater at its best. 
From June through September, Dorset Theatre Festival produces four main stage productions, bringing some of the country's most talented playwrights, directors, and actors (think Tim and Tyne Daly and Treat Williams). 
Under longtime Artistic Director Dina Janis, the festival is changing the landscape of regional theater. Dina has said that, "the theatre should be the kitchen table of the community."
And that's exactly what Dorset Theatre Festival has become. 
Through their giving back and educational outreach programs, they make sure that everyone is able to enjoy live theatre. 
In addition to their regular productions, Dorset Theatre Festival hosts musical performances – Natalie Merchant recently performed a sold-out show – as well as the New Play Reading Series, Young Playwrights Program, an annual writers retreat, Women Artists Writing Group, and much more. 
Live theatre is best shared with others, and we promise it's sure to make you laugh, think, and feel long after the curtain falls.