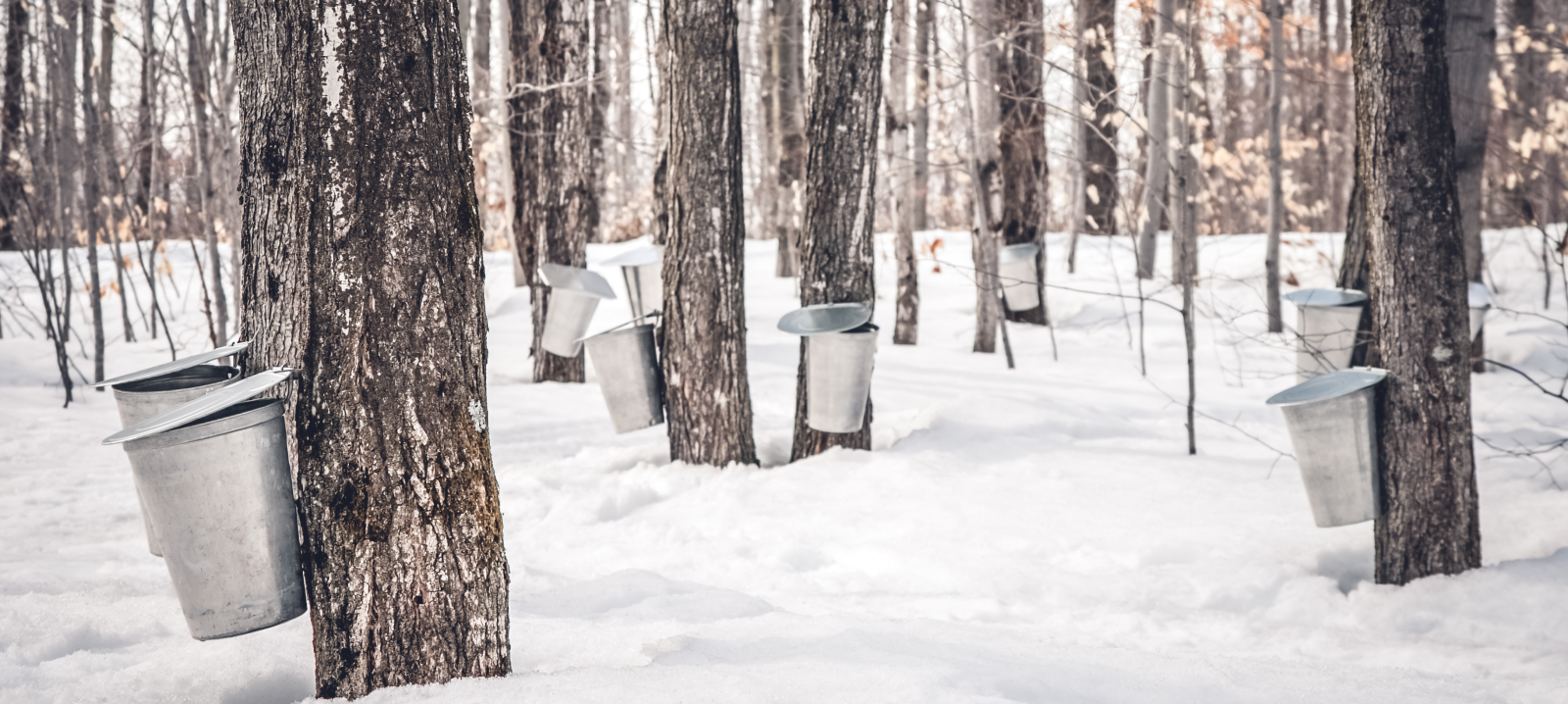 This time of year Vermont's landscape is dotted with sugarhouses in full swing. Smoke and evaporated sap billowing out of their roofs. The sweet smell of maple in the air. It's a tradition that spans hundreds of years. Pancake sauce, liquid gold – it doesn't really matter what you call it, maple syrup is the sticky, sweet, golden goodness that makes Vermont's winters so special and regardless of name, it's delicious! It all starts in late winter when the temperatures freeze at night but thaw during the day. That allows the sap in maple trees to flow out of a spout into a collection site where it's boiled down to maple syrup. 
Vermont has a long standing history of being the highest producing state of maple syrup and many maple farms have been in the same family for generations. Last year alone Vermont had 6.65 million taps and produced 2.55 million gallons of pure maple syrup! That's a lot of waffles!  
Dorset is home to several maple syrup producers as well as several great places to purchase it. Be sure to check out our list of maple events happening too. 
Where it's being made:
Dorset Maple Reserve  – 500 acre sugar maple forest in Dorset with over 40,000 sugar maples. Known for their artisanal maple syrup like their Bourbon Barrel Aged and Smoked & Spicy. 
Havoc Hill Sugarhouse – This family run sugaring operation is located up Havoc Hill in East Dorset.
Merck Forest & Farmland Center – Located in Rupert, MFFC is free and open to the public. Visit their Frank Hatch Saphouse or walk through the forest and see some of their 2,500 taps. They also offer public maple workshops and demonstrations throughout the season.
Smokey House Center – Through the Living Lab program, their 100 acre sugarbush is used for scientific research- investigating the future of Vermont's maple syrup through partnerships with Yale University and more. 
Where to buy it:
Where to try it:
Barrows House – Try their Crispy Brussel Sprouts made with Dorset Maple Reserve Smoked & Spicy Maple Syrup or their Barrows House Wings with their house made maple sugar dry-rub. For drinks try their Smoked Maple Old Fashioned or their Vermont Manhattan (Smuggler's Notch maple syrup infused bourbon, Antica Formula vermouth, orange bitters, and luxardo cherry).
Dorset Inn – Breakfast options at the inn include Buttermilk Pancakes with Vermont maple syrup as well as French Toast. For something special try their Dorset Inn Bread Pudding made with maple whiskey caramel and fresh whipped cream. 
Dorset Union Store – In the summer months the Dorset Union Store is the only place in town to get a maple creemee. For year round maple eats try their Maple Walnut Scones or for something savory try their maple Mustard Glazed Salmon or Lentil & Sweet Potato Salad with Maple Balsamic Vinaigrette. 
Jaymie Bakes – For a sweet treat try any of Jaymie's maple inspired baked goods like Maple Cinnamon Muffins, Maple Iced Brownies, and Maple Snickerdoodle Biscotti. 
Where to learn more:
March 25 – Check out Merck Forest & Farmland Center for their annual Maple Open House which includes demonstrations, children's activities and tours. 
March 5 through April 2 – Every Sunday visit the sugarbush and get involved with weekend sugaring operations at MFFC during their Maple Meet-Ups.